At Bowman Dental, we welcome a wide selection of payment methods to make taking care of your dental care as easy as can be. Going to the dentist can be nerve-wracking already, and our variety of financing options takes away any additional stress.
We will always be up front with you about the cost of your treatment and help you find a way to get the care you need by offering flexible payment options and working with many major insurance companies.
If you ever have questions about the cost of your treatment, call us! We are always happy to help.
Patient's Role and Financial Policy



As with any partnership, both parties have a role to play. Our role is to provide you with quality service. In turn, your role is to pay for your treatment at time of service. Our team will work with you to determine financial arrangements that make sense for both of us.

So that we may file your insurance claim(s) correctly, we ask all patients to complete insurance form before seeing the doctor as that insures our office of obtaining the correct information to better serve you in regards to your benefits.
We file insurance claims for all patients with insurance benefits. We accept assignment of insurance benefits, however the balance is your responsibility whether your insurance company pays or not. We cannot bill your insurance company unless you give us your complete insurance information. Your insurance policy is a contract between you and your insurance company. We are not a party to that contract. If your insurance company has not paid on your claim within 90 days, the full balance will automatically be transferred to you. That balance will be due upon billing.
In the event that your insurance company denies payment of a service, you are responsible for that fee. Any unpaid balance after insurance pays is due within 45 days.

Any unpaid balance after 60 days is charged a yearly finance charge of 18%. The finance charge is equal to 1.5% of your outstanding balance per month. If your account reaches collection status (90 days) and you make no effort to pay off your account, your account will be assigned to a collection attorney. If Bowman Dental must take additional steps to collect from your account, ALL costs of collection, including court cost and attorney's fees incurred by Dr. Bowman will be charged to you.
http://
We also accept
Click below to apply!
Patient-focused financing plan that works like a credit card

Lets you pay medical bills through affordable monthly payments

No interest as long as you pay in full by the end of your plan
For more information and to apply, click here.
---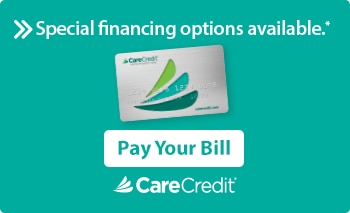 Call today to schedule an appointment and see how Bowman Dental's flexible financing options can help you achieve optimum oral health on a budget.
Unfortunately, we are unable to use this in conjunction with the Bowman Dental Savings Plan